Image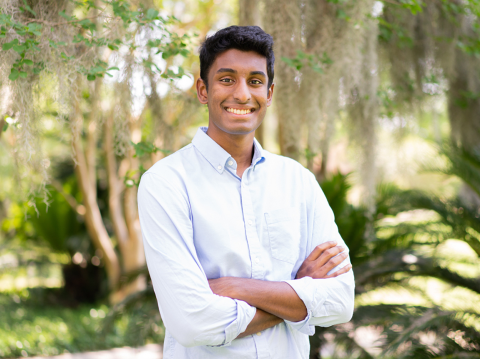 Rising senior Sahil Inaganti has been selected as a 2022 Udall Scholar. Out of hundreds of applications, Inaganti was one of just 55 college students selected nationwide for this prestigious award. He is the first Tulane student to win this award since 1997.
The Udall Foundation selects recipients based on commitment to careers in the environment, Tribal public policy, or Native health care; leadership potential; record of public service; and academic achievement. Each Udall Scholar receives $7,000 for their junior or senior year of academic study. Since the program's inception in 1996, the Udall Foundation has awarded 1,843 Udall Scholarships totaling over $9.4 million.
"I am so incredibly honored to have received the Udall Scholarship but none of this would have been possible without all the help I received along the way. I am extremely grateful to my friends, family, and mentors who made this remarkable achievement possible," said Inaganti. "As the child of two immigrants, I feel exceptionally obligated to this nation which has provided my family with unparalleled prosperity. I also recognize that I am particularly indebted to the communities whose historical and current oppression has enabled the economic growth of modern America from which my family has benefited. Many of these communities are right here in Louisiana. Petrochemical plants and refineries in Cancer Alley pollute the air and harm the health of marginalized communities. Motivated by these injustices, I interned at the Tulane Environmental Law Clinic, which works with communities affected by environmental pollution, to conduct research on air pollution levels in Louisiana and file citizen suits to address wrongdoing."
After graduating from Tulane, Inaganti plans to pursue a law degree with a focus on environmental and civil rights law. As a lawyer, he hopes to advocate for marginalized communities bearing the disproportionate burden of pollution from industrial facilities and toxic dumping sites.
"Sahil has spent his undergraduate career tackling critical environmental issues on our campus and in vulnerable communities in Southeast Louisiana," said Thomas Spencer, Director of the Newcomb-Tulane College Office of Fellowship Advising. "Through this work, Sahil demonstrates a brilliant capacity to identify problems, to innovate solutions, to build consensus around issues, and to make a difference. His work aligns well with the mission of the Udall Foundation, and we are thrilled this scholarship will now support him as he continues to learn and grow into serving our country as an effective agent of change."